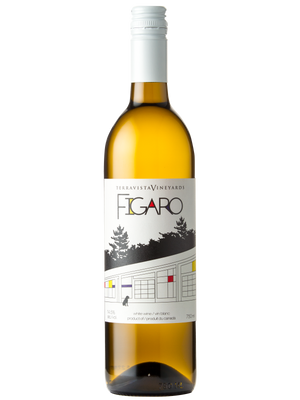 FIGARO 2022
Sale price Price $38.00 Regular price
Tax included.
FIGARO 2022 - New Release! 
Wine Club Member release October 14, 2023!
Public Release Nov 2
Roussanne (70%) Viognier (30%)
TASTING NOTES

This vintage of Figaro has aromas of ripe apple, pear skin, orange blossom and beeswax. On the palate, ripe tangerine and white peach take the lead, followed by echoes of orchard fruits. The surprise of shortcrust pastry adds a comforting warmth to each sip - thoughts of the soft glow of a winter sunset. Bright acidity, with touch of vanilla provide the perfect contrast to the rich creamy, texture of this Rhône-style blend of Roussanne and Viognier.

Picture this medium-bodied wine alongside a seafood risotto with its subtle earthy intrigue and bright, layered fruit.

WINEMAKER'S NOTES:

Roussanne was barrel fermented with 2 different yeasts in French oak and puncheons, mainly neutral and some 2nd fill. Lees stirred for 3 months, left sur lie for an additional 2 months. The Viognier from an Oliver vineyard was fermented cool in a stainless tank - and then blended with Roussanne after aging for 6 months.

TA 7.0 g/L RS 0 g/L pH 3.48 Alc 13.6%